I don't know about you, but I am a sucker for holiday reading. While some people tune in to the Hallmark channel to watch Christmas movies, I check out books whose setting includes the holiday I am embarking upon. So, you can imagine my delight when I was selected to pick out this November's book for the mom's book club I'm a member of. I knew I wanted a book with Thanksgiving somewhere in it. The Diva Runs Out of Thyme, first book in the Domestic Diva mystery series, by Krista Davis was just that book. This well-paced mystery with memorable characters all takes place on a Thanksgiving holiday weekend and was just the thing to read on national Turkey month.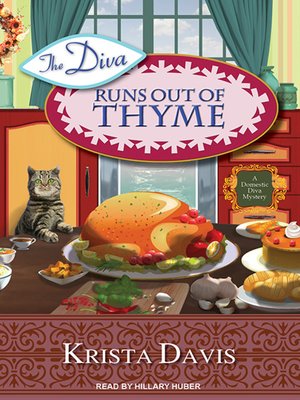 The story begins when our main character, Sophie Winston, discovers a dead body in a dumpster and the police believe she is somehow linked to the murder. From there the reader takes on the role of detective as more and more of Sophie's closest friends and neighbors become suspects to a string of murders and attempted murders.
The book is not all death and angst, however. Davis delivers with a sprinkle of humor, romance, and hostessing tips. Each chapter begins with tips from either Sophie's or Natasha's (her nemesis) advice column and the book ends with a couple of Thanksgiving day stuffing recipes. I haven't tried out the recipes yet, but if they are anything like this book, they are sure to be a hit.